Established: 1941
Area: 4,24 thousand sq. km
Population: 2222,6 thousand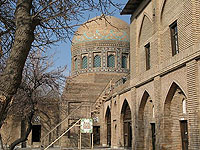 Andijan province is the smallest in size, but the most densely populated province of Uzbekistan. Almost 10 percent of Uzbekistan 's total population lives in what consists of only one percent of country's total territory. It is located in the eastern part of the Ferghana Valley. This province consists of 14 rural districts: Oltinkul, Andijon, Asaka, Balikchi, Boz, Bulokboshi, Jalalkuduk, Izboskan, Kurghontepa, Markhamat, Pakhtaobod, Ulughnor, Khojaobod, Shakhrikhon; 11 towns: Andijon, Asaka, Markhamat, Okhunboboev, Pakhtaobod, Poytugh, Khonobod, Khojaobod, Shakhrikhon, Korasuv, Kurghontepa; 5 city-type-settlements: Andijon, Boz, Janubiy Olamushuk, Kuyganyor, Polvontosh; and 95 villages. The administrative center of the province is the city of Andijan (447 km from Tashkent, 333,4 thousand people).

Agriculture: cotton, silk cocoons, grain crops, horticulture, and viticulture.
Industry: mining and processing of natural resources, oil and gas, construction and textile industry.
The western part is heightened flatland while the eastern part consists of the foothills of the Ferghana and Alai Mountain Ranges. These mountains protect the valley from the incursion of cold weather, making the weather more stable in winter compared to other provinces of the country. Winters are warm and summers are hot (40 decrees Celsius above zero and more).
The main river is the Kara Darya River , which crosses the province from east to west. Its water is mainly used for irrigation purposes. Most land in the province is ploughed, with fruit trees such as apricots, peaches and grapes. The high temperatures allow for cultivation of cotton and subtropical plants, as well as develop silk cocoon production, and horticulture. The Andijan province is the largest producer of cotton and cotton fiber in Uzbekistan. The cultivated land consists of 383,3 thousand hectares, 203 thousand ploughed land, 50 percent of which is allocated to cotton production. Horticulture, fruit, vegetables, grapes and grain production is well developed. Also, Andijan delivers 15 percent of all cocoons produced in Uzbekistan. The cattle breeding are oriented towards meat and milk production.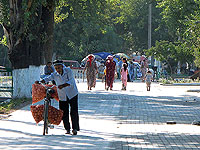 There are more than 16 large industrial enterprises in the province. They are: "Andijonsermash", "Mashinasozlik", "Elektrodvigatel", "Elektroapparat", "Etalon", "Nitron", hydrolytic plant and a textile factory equipped with machinery by VTI (US), a men's shirt manufacturer, "Ankotex", the sowing equipment manufacturer, "Tiksanti", and "MASK", which specializes in mineral water, ketchup, spaghetti, and other processed food. Besides, there are more than 10 oil and gas deposits and the largest pipeline in Central Asia , which run along the route Khojaabad - Andijan - Asaka.
There are more than 25 joint ventures, as well as many other small and medium enterprises, The Uzbek-Korean joint venture, "Uzdongyanch" manufactures cable. The Uzbek-Korean joint venture, "UzDaewooAuto" in the town of Asaka manufactures cars such as "Nexia", "Tico", "Matiz", and "Damas" mini vans.
The main transportation network is the railroad with 156,6 km of rail while the length of automobile roads totals 7,2 thousand km. There is an airline connection with Tashkent. Moscow, Saint Petersburg, and with other cities in the Caucasus and Crimea.
The province is proud to have 718 secondary schools, as well as gymnasiums, lyceums, specialized music and sporting schools, a state university, medical institute, institute of economy and management, institute of foreign languages, as well as the Department of the Tashkent State Textile Institute. There are three theaters, 646 public libraries, 237 clubs, 183 cultural centers, 2 museums, nearly 100 healthcare establishments, and 5 sanatoriums.
Andijan is one of the ancient cities of the Ferghana Valley, established along the ancient Silk Road. Even today it serves as a convenient geographical location and a link in the transportation network of the southeast Ferghana.
Andijan is a land of the ancient history, traditions, and it is a unique school of agriculture. Andijan is the fourth largest city in Uzbekistan and is located at the center of the densely populated districts andj crossroads of a busy transportation network. It is the homeland of Zakhiriddin Muhammad Bobur, the great poet, statesman and author of the widely known book "Boburnoma". It is also a homeland for the poet Abdulkhamid Chulpon.
In the past centuries the city was known for its fine silk and cotton fabrics that were widely exported to other countries of the world.
Contemporary Andijan is a major industrial center. Different kinds of manufacturing plants produce a wide variety of equipment, spare parts for agricultural machinery, pumps, universal lifts, and more. Besides, there are a number of other enterprises such as milk and meat processing plants. Also, other industrial centers in towns such as Asaka, Shakhrikhon and Pakhtaobod are now being established.
Andijan has changed much in recent years. It has been enhanced with new buildings that have been constructed combining traditional handicrafts and contemporary architecture. New car service stations and tennis courts have also been built in addition to the streets that have been widened.
The fertile ground, abundance of light and moderate climate allows for the cultivation of cotton and cocoons in the outskirts of the city. Winter in Andijan is mild and short; the wind is weak compared to the western parts of Ferghana Valley.
Andijan has higher seismic fluctuations than other cities in Uzbekistan , which prevents the construction of tall buildings. The most devastating earthquake took place in 1902.